---
If you like the post, don't hesitate to leave a comment or a little ❤️. This is always good for motivation and for the survival of the site.
Sincerely & Respectfully Firebar💤
---
Group Home
Group Home is a hip hop duo, composed of members Lil' Dap (birth name James Heath; b. March 6, 1972) and Melachi the Nutcracker (birth name Jamal Felder; b. October 5, 1977). They came to prominence as members of the Gang Starr Foundation. Lil' Dap made his rhyming debut on Gang Starr's 1992 classic Daily Operation on the song « I'm the Man ». Both members appeared on Gang Starr's critically acclaimed 1994 effort Hard to Earn, on the tracks « Speak Ya Clout » and « Words from the Nutcracker ». In 1995, the group released its debut album, Livin' Proof. The album was very well received, mainly due to DJ Premier's advanced production work, described by Allmusic as « rhythmic masterpieces ». A second album A Tear for the Ghetto was released in 1999, this time with only one track produced by DJ Premier.
---
Livin' proof
Released 25 years ago, it's very much the music of the late fall and early winter, a grimy classic dedicated to surviving in the inner city in pre-Giuliani, pre-gentrified New York City. For his part, Preemo seems like he's in another zone, bending and manipulating jazz and soul samples into the soundtrack for urban blight, capturing both the hopelessness that flourishes in this environment and the determination required to survive.
Both Lil' Dap and Melachi The Nutcracker had been part of the Gang Starr collective for years by the time Livin' Proof was released. Lil' Dap's affiliation goes back to the group's Wild Pitch days, and Melachi portrayed one of the "gladiators" in the "Step In the Arena" video. They were certified street dudes who had a penchant for getting into trouble. The story goes that Melachi was facing legal issues, and the judge allowed him to avoid incarceration if he recorded this album. Regardless, most critics take it as gospel that neither rapper was ready for prime time and both "wasted" Preemo's beats. The truth is…more complicated.
Neither Lil' Dap nor Melachi were the most gifted emcees, especially during an era overflowing with talent. Still, Lil' Dap was always competent, his vocal rasp always distinct and sharp. And while Melachi lacked technical skill, he possessed boundless energy. His lines weren't always the strongest, but he delivered them with serious conviction. Moreover, given the lives they had lived, they were ideal candidates to convey Livin' Proof's themes. Their rough edges made the lyrics and the feeling behind them ring true, and solidly complement Premier's soundscapes.
In must be said that the greatness behind Preemo's production work on Livin' Proof is stunning. The group's first big hit, "Supa Star," is a clear example. Premier takes five seconds of synths from the beginning of the cheesy ballad "Hanging Downtown" by Cameo, rearranges them, and turns the sample into the backbone of one of the hardest New York street anthems of the mid-1990s. With the title track, he takes three incidental notes from a lengthy keyboard solo by Ramsey Lewis on "Collage," adds some neck-snapping drums, and builds in one of his most memorable creations. Bob James' "Nautilus" had already been used dozens of times by a wide slew of different artists by late 1995, but Premier chops a snippet from it in such a way that it sounds fresh and new on "Inna Citi Life."
Premier offers up two flavors of "Up Against the Wall," each version of the song conveying different emotions. Ostensibly, the message of the song is Dap and Melachi searching for ways to escape the harsh realities of their lives through their music, only to feel the desperation of constant danger at every turn. On the "Low Budget Mix," Premier manipulates a tiny sped-up section of Isaac Hayes' "Window of the World" to give the song a sense of urgency, boosting the feeling of claustrophobia. However, the "Getaway Car" version of the track conveys much more sorrow, built around a mournful piano loop. I prefer the latter iteration, but both are perfectly constructed.
Preemo doesn't technically produce every track on Livin' Proof. Guru, Gang Starr's lyrical half, works double duty on the spacey "Serious Rap Shit" posse cut. Along with joining Big Shug as guests on the song, he hooks up the bass-heavy track, mixing pulsing synths with orchestral springs. Meanwhile, Brooklyn veteran and fellow D&D studio denizen Big Jaz (the guy who brought Jay-Z into the game) put together "4 Give My Sins," a string-heavy track that's unremittingly grim. The duo describe the paranoia and despair closing in on them, as they explore the bleakness of their upbringings and wrestle with their past misdeeds.
"Suspended In Time," the album's third single, is another evocative track, filled with lush flutes and keys, while still maintaining a sense of melancholy. Dap definitely is the most contemplative, reflecting on how incarceration and isolation can put someone in a sort of suspended animation, even as the people back home are at the mercy of the cold world that surrounds them. Along with "Supa Star," "2 Thousand" allows the pair to express optimism, as the duo rock to a bouncy flip of Donald Byrd's "I Feel Like Loving You Today," envisioning the continued success of their musical careers. 
The album ends with "Tha Realness," a track that is musically as dark as anything on the album. Here Dap and Melachi, along with guests Smiley the Ghetto Child and Jack the Ripper, pay homage to representing reality through their music. Both members of the group give their strongest performances on the album, as Melachi swears to "speak the truth, please keep it sharp for my fam," while Dap combats fakeness. "You know the feeling when things ain't right," he raps, "When these non-fiction n****s start to rap on the mic."
Livin' Proof was, for all intents and purposes, the last major collaboration between Premier and Group Home. Preemo continued being Preemo, and Group Home continued to release material. However, without Premier's backing, the audience just wasn't present. There seemed to be some lingering acrimony between the former partners, with Preemo grousing that Dap and Melachi's rhymes were a bit lacking on the album, and Group Home continuing to insist that they were equal partners in the endeavor.
Premier later produced "Legacy" on the group's Gifted Unlimited Rhymes Universal (2010), though mostly because Guru was involved with the song. He later brought in Dap and Melachi to contribute to One of the Best Yet (2019), suggesting that there are no longer any hard feelings. And besides, for whatever reason, Group Home found a way to get the best out of Premier.
Livin' Proof may be best remembered for its musical contributions, but despite what some have said, it wouldn't have worked as an instrumental album. It's still an unpolished chronicle of life in the ghetto that feels authentic a quarter of a century later.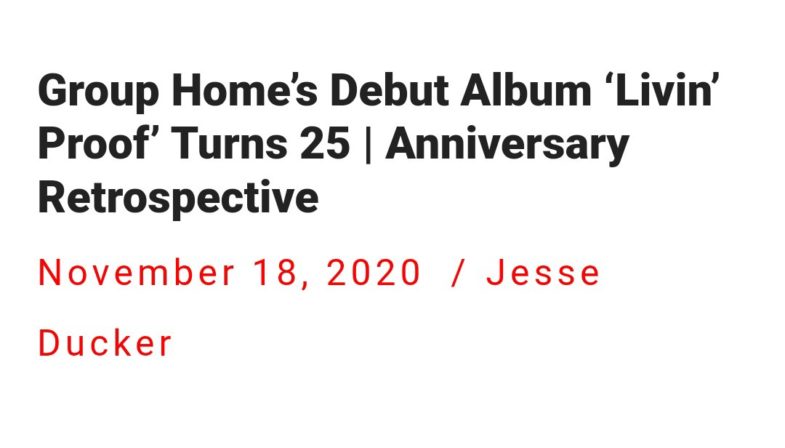 ---
---
Group Home interview HipHopDX (2010).
https://hiphopdx.com/interviews/id.1594/title.group-home-up-against-the-wall
---