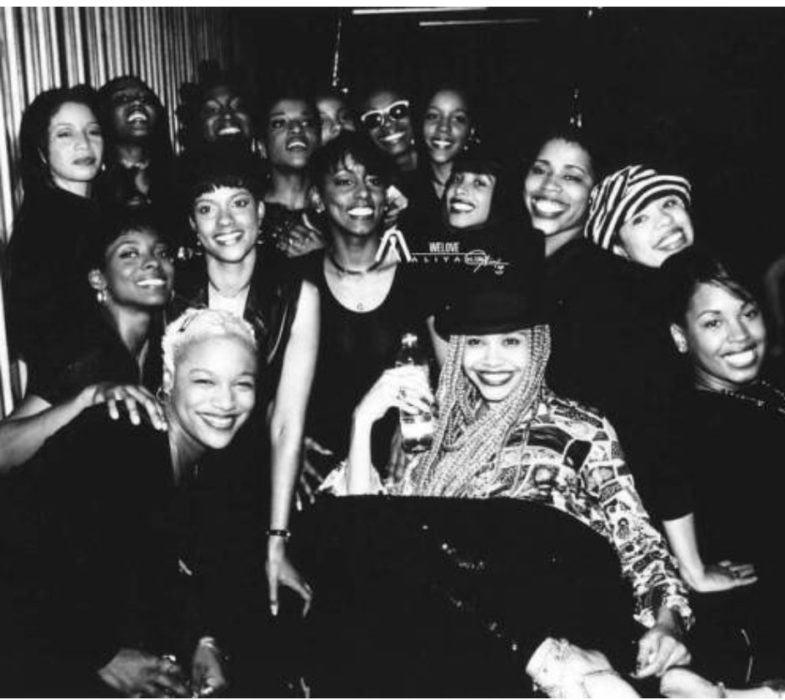 Written by Alisha Tillery
InMay 1995, on the heels of the racially charged Rodney King and O.J. Simpson trials, Panther, a film based on the Black Panther Party and directed by Mario Van Peebles, was introduced and anchored by an all-women's chorus on the title track, "Freedom."
This groundbreaking single — and the accompanying video — featured more than 60 women trailblazers, including Aaliyah, Mary J. Blige, Queen Latifah, En Vogue, Monica, TLC, Meshell Ndegeocello, MC Lyte, and Brownstone. Twenty-five years later, it's still peak '90s Black girl magic and an unsung favorite for the culture. Yet, despite the celebrity touch points, the star-powered single and iconic video had humble beginnings.
Freedom for my body
Freedom for mind
Freedom for my spirit.
That verse is from the original recording of "Freedom," which appeared on Pendulum Vibe (1994), the debut album of Joi Gilliam (known simply as "Joi"). Produced by Dallas Austin and Diamond D, it featured the pioneering neo-soul singer's signature speakeasy vocals and self-aware, pro-Black freestyle. The album as a whole was Joi's "baby" with Austin, who went on to become a celebrated producer. The verse was largely about her self-liberation as a young woman after feeling unseen and overlooked yet intimately aware of her power.
That same year, Black Men United (BMU) recorded the wildly successful single "You Will Know" for the Jason's Lyric soundtrack under Mercury Records. Ed Ecksein, former label president, said when he signed on as the Panther soundtrack's executive producer, he knew it would need a similar "flagship song" to represent the film. Joi's album Pendulum Vibe was a critic's darling but never did big numbers. But it did inspire a new kind of hit. The single "Freedom" would be picked up, reconceptualized, and released as Panther's official theme.
The work put in by Black women on behalf of the Black Panther Party served as the foundation for the record. Despite the historic photos of majority male members of the party, there were scores of sistas who worked at all levels of the organization. At its pinnacle, women made up 60% of the party's membership, and Elaine Brown would later lead the party as minister of information and chairman.
Eckstein says having a record featuring all women sent a message about the film before it even hit theaters. "The power behind the organization was women. The backbone behind the organization was women," he says. "So we needed to do something similar on the soundtrack as we did for the BMU record."
Veteran music executive Sam Sapp, who back then worked in A&R, recalls the word "freedom" being tossed around consistently in conversations with Van Peebles about the soundtrack. Rather than create something new, he remembered Joi's single and called Austin.
"I think it was fate," Sapp says. "The lyrical content just made sense for what we were trying to do."
With the track secured and the concept developed, the only thing missing was the talent. Sapp hosted a special screening of the film in Atlanta to garner interest in participating. Word spread, and soon artists were calling him to be a part of the project.
"That's really how it came together — just trying to figure out a platform to showcase the power among these women, which I think is just so powerful. [We] had never had that opportunity before," Sapp says. "Here I am in this male-dominated business trying to orchestrate this thing, but I really wanted to allow the women to run with it."
"What that particular song did was took us out of the kitchen, out of the washroom, and put us on the front line as the queens that we are."
In fall 1995, more than 60 women traveled to Capitol Records in Los Angeles, where they recorded both the vocals and the visuals in the same day.
Planning for the day of recording required ultimate levels of coordination and an understanding of how and why to stagger artists' arrivals and recording schedules to avoid overlaps. There were camera crews, food service, hair and makeup, but no egos in sight. Even with stars like Queen Latifah, Vanessa Williams, MC Lyte, XScape, and En Vogue in the house, Sapp remembers this remarkable tidbit: "Everyone was in the same room, and there was no VIP area."
Joi, then an early twentysomething, recalls the day: "I remember just feeling like a kid in a candy store, feeling just so overwhelmed with a lot of pride," says the singer, who later joined the group Lucy Pearl. "I definitely recognized when it was happening that it was something very special that was taking place."
Montsho-Eshe, former vocalist and choreographer for the Grammy-winning group Arrested Development, was also young in her career. "To be around so many female artists that I love and people I've never met… I just knew that it was going to be a part of history," she says. "[It was] something that was going to just shift everyone that was involved on some level."
If getting all the women in the same place at the same time was the first step, making sure there was equity in the recording process was the next. While one artist was singing in the booth, the other artists were on the risers (which were built onsite) singing collectively. In the end, more than 75 voices were featured.
Veteran singer Angie Stone was recruited to arrange the song to add more depth to fit a group of singers. Stone says she "had more women than we had words. That's where the arrangements came in."
By that, Stone means providing space for Patra's dancehall ruminations, Meshell Ndegeocello's spoken word, ad libs by various artists, verses segmented to accommodate both solo artists and groups, a bridge for En Vogue to flex their harmonies, and even bars by hip-hop artists like Queen Latifah, Salt-N-Pepa, and Yo-Yo.
Artists who wanted to participate but were unable to attend were instead recorded and filmed separately and edited into the final cuts. TLC was one of them.
As a workaround for Left Eye's probation-related travel restrictions, Tionne "T-Boz" Watkins says the trio recorded vocals in a local Atlanta studio and filmed the video from the conference room at LaFace Records.
"It was the most amazing thing to have my fist pumped and have on this hat that had a Black ballplayer and a ball on the front and represent," she says. "It made you feel so proud to be Black. It was an awesome thing to be a part of."
There were even more priceless behind-the-scenes moments, like Queen Latifah's vocal portion being the first time she sang publicly on a record, and Joi's cover of Sweet Honey in the Rock's movement song, "I'm Gon' Stand!!!," which became the intro of the record. Another memorable moment on set was everyone being impressed with then-16-year-old Aaliyah. Stone describes her as "endearing and just chilling." Sapp remembers that she was "so cool and patiently waited for hours" to receive her part to sing.
The record was also a game changer in that both an R&B and a rap version were featured on the soundtrack. Sapp says artists were freestyling to the instrumental while waiting to record, and they commissioned the "Dallas' Dirty Half Dozen Mix" on the spot.
The "Freedom" single was a top charter on the Panther soundtrack, peaking at #10 on Billboard's R&B Singles Chart and snagging the #45 spot on the Hot 100.
By1995, the culture was accustomed to star-powered songs by artist collectives ("We Are the World") and even Black women's anthems ("Ladies First"), but we had not yet seen Black women celebrated on such a large scale. Naima Cochrane, an urban music historian, says "Freedom" may have been a part of music history that was taken for granted.
"You can't always appreciate the magnitude of things in real time. You have to look back at it after the fact," Cochrane says. "The music field was so vast. I don't think anyone was thinking we'll never see this many women (together) again."
Despite the number of female artists in the 1990s, men still ran the music industry. "Freedom" represented both the arc of Panther and what women were experiencing in the present time.
"What that particular song did was took us out of the kitchen, out of the washroom, and put us on the front line as the queens that we are," Stone says. "They gave us an opportunity to express just because we're females doesn't mean we don't go down without a fight."
Twenty-five years later, we may be seeking more solidarity among Black women in music, but as the saying goes, there's strength in numbers. "Bringing all the women together upped the ante and brought weight and power to 'Freedom,' and in hindsight, it turned out to be so monumental, it hasn't been done since," Joi says.
She's right, but perhaps it's because there just aren't as many Black female artists in mainstream music anymore. According to Billboard, there were 62 songs by women on the R&B/Hip-Hop Airplay chart during 1993, but only 33 in 2016.
Cochrane says the shift can also be attributed to changes in the artist development and charting landscape. Girl groups dominated from the 1960s through the '90s, but the music industry crash in the 2000s left little to no room (or budget) for long-lasting acts.
While there may not be as many Black women artists today, they are still making their mark in music. For the first time in history, four Black female soloists recently occupied the Hot 100's top two slots.
As for another Black woman collective recording in the future, "Freedom" artists are passing the torch.
"It should be another song now with the new generation of artists that would show people that we're sticking together," Watkins says. "I think it's needed again, especially with the state of the world today."
Alisha Tillery